Dear Friends:
I had two very positive interviews with the Edmonton Transit and Edmonton Remand Centre for good quality jobs over the summer. I passed their aptitude tests, made a positive impression on the interviewers and had the qualifications. When my potential employers did my background and reference check, I was dropped without comment and I did not know why.
Well now I think I have the answer. Both employers queried the Edmonton Police "Service" for a criminal record check. I was not worried as I received a pardon in 2009 and my criminal record was sealed.
Well, I guess in the case of Christian Activists, one does not have to have an actual criminal record to fail the Edmonton Police's "Service's" security clearance. One only has to put out flyers disagreeing with homosexuality and abortion and the police will call them "obscene" and "propaganda" and put them on your criminal record check for employment.
Please keep in mind no court has ever convicted me of any crime for distributing these flyers.
I am surprised the police would do this, but then again the Edmonton Police "Service" has long been on the cutting edge of left wing activism, homosexual activism and unprofessional conduct. Their so-called "Hate Crime" officers have been known to waste taxpayer dollars masquerading as racists on right wing websites where they will post truly nasty and racist comments in the hopes of getting a potential racist to respond to their truly racist comments:
http://www.freedomsite.org/exposed/edmonton_police.html
and
http://www.freedominion.com.pa/phpBB2/v ... p?t=100752
Edmonton Police have been marching in Edmonton's homosexual shame parade for years and aggressively recruiting homosexuals to join the Edmonton Police Service.
Murray Billet is an outspoken homosexual activist and has served as Chairperson of the Edmonton Police Commission for years.
As one can see below with what the police have done to my security clearance and other scandals, not to mention the serious and well publicized low morale at the Edmonton Police Service; the public is not well served with a homosexual activist police force, which ignores the rights of social conservative Edmontonions to be treated fairly and impartially, in favour of advancing special rights for the political left's favoured groups.
Here is a copy of the security clearance the Edmonton Police "Service" is giving to my potential employers
--------------------------------------------------------------------------------------------------
Edmonton Police Service
9620-103A Avenue
Edmonton, Alberta
Canada, T5H-0A7
PH: (780) 421-3333
http://www.police.edmonton.ab.ca
POLICE INFORMATION CHECK CERTIFICATE
SECURITY SERVICES AND INVESTIGATORS ACT ONLY
(FORM B)
TO WHOME IT MAY CONCERN
RE: NAME WHATCOTT, William Gary
Date of Birth 1967 October 16
Page 1 0f 2
A search based on the above NAME AND BIRTHDATE does not reveal any criminal convictions, conditional and absolute discharges and related information in Canada's national repository for criminal records.
NOTE:
A search based on the above NAME AND BIRTHDATE reveals the following POLICE FILE(S) with the EDMONTON POLICE SERVICE.
Date: 2008 September 30
Type of Occurrence: Distribution of Obscene Material
Involvement as a: Subject
NOTE:
A search based on the above NAME AND BIRTHDATE reveals the following POLICE FILE(S) with the EDMONTON POLICE SERVICE.
Date: 2009 July 01
Type of Occurrence: Trouble with Person, Distributing anti-homosexual propaganda
Involvement as a: Subject
NOTE:
A search based on the above NAME AND BIRTHDATE reveals the following POLICE FILE(S) with the EDMONTON POLICE SERVICE.
Date: 2010 April 20
Type of Occurrence: Distributing anti-gay pamphlets
Involvement as a: Subject
Note: Vulnerable Sector Search Included.
With consent of the applicant, this search included a vulnerable sector background check for persons working with children or vulnerable persons.
Issued at the City of Edmonton in the Province of Alberta
On October 01, 2010
E. Mozak
for Heather Bettke – Supervisor
Police Information Check Unit
Community Support Section
--------------------------------------------------------------------------------------------------------------------
End of so-called Criminal Record Check
Here is a copy of the flyer police have deemed to be "obscene" and so objectionable that in spite of not being able to get any court to try or convict me of obscenity, the Edmonton Police have decided Bill Whatcott's potential employers need to know the flyer is obscene (according to Edmonton Police) anyways.
Delivered in Edmonton Centre riding September 30/ 2008
---------------------------------------------------------------------------------------------------------------------
Abortion, Homosexuality, Radical Feminism the Defining Issues this Election
Pierre Trudeau misled us when he told us the state had no business in the bedrooms of the nation and introduced legislation decriminalizing sodomy. Now we have sodomites exposing their bums and genitals in public at big city homosexual shame parades. School children are being misled into believing homosexual sex is normal and healthy. Homofascism has crept into our police forces and human rights tribunals are intimidating and punishing those who dare to criticize even the grossest excesses of the homosexual agenda. Laurie Hawn our "Conservative" MP marched in this year's pro-homosexual AIDS walk but rather than be honest and address homosexual promiscuity as the major factor in the spread of AIDs, he pandered to political correctness and gave the impression sodomy has nothing to do with spreading AIDs.
More than 100,000 unborn children lose their lives every year in Canada due to abortion. The vast majority of abortions are not hard cases but are for lifestyle reasons. Canada is a wealthy nation and women have access to many economic and social resources. Canadian gophers have more legal protection than our unborn. We can murder and abuse unborn children for any reason right up to birth. The picture to the left is a legal (but very painful and traumatic) 7 month abortion on a baby boy. Laurie Hawn has refused to answer Campaign Life's questionnaires on abortion.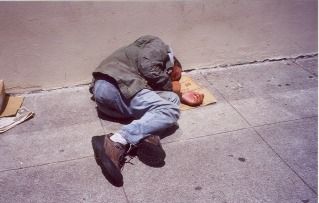 Radical tax funded feminists have hijacked the family court system. Radical feminists often lie and distort statistics to make themselves appear as victims. The current reality is feminists have immense power in our courts and government. They are destroying fathers and the God ordained family unit. Thousands of fathers across Canada have been financially ruined and denied access to their children. Punitive child support orders, isolation and crushing lawyer's bills are pushing some fathers into homelessness and suicide. Laurie Hawn must speak out against the injustice fathers suffer at the hands of our courts and government.
Call Laurie Hawn and demand he makes unborn children, the homosexual agenda and radical feminism an issue this election. The NDP and Liberals are rabidly pro-abortion, pro-homosexual and anti-Father:
Contact Laurie Hawn: 14215 Stony Plain Road, Edmonton, AB
Ph: 780.442.1800, e-mail: info@lauriehawn.ca
To contact Bill Whatcott, learn more about these important issues and hear how your sins can be forgiven through the shed blood of Jesus Christ call:
Ph (780) 885-7866, E-mail
billwhatcott@gmail.com
,
website
http://www.freenorthamerica.ca
----------------------------------------------------------------------------------------------------------------------------------------------------
End of Flyer
"

First they came for the Communists, and I didn't speak up, because I wasn't a Communist. Then they came for the Jews, and I didn't speak up, because I wasn't a Jew. Then they came for the Catholics, and I didn't speak up, because I was a Protestant. Then they came for me, and by that time there was no one left to speak up for me.

"
Rev. Martin Niemoller, 1945