Man found on fire dies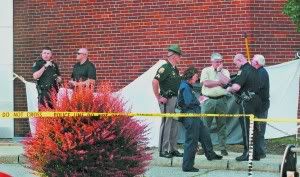 MICHAEL MOORE / Sentinel Staff
Police, other emergency personnel and the state medical examiner are seen outside the Cheshire County Superior Courthouse in downtown Keene Wednesday where a man was discovered on fire. The man was pronounced dead at the scene but has yet to be identified.
If women were pushed to this sort of desperation by our so-called "family" courts this would be much bigger news. Having heard from some folks who knew him, Mr. Ball was known to be a good father and came from a stable and respectable background. The family courts robbed this man of his children, ground him down financially and then robbed him of his will to live....
Bill Whatcott
Man who set himself on fire had a history with courts
Posted: Thursday, June 16, 2011 1:33 pm
Copyright 2011 Keene Publishing Corporation | 11 comments
http://www.sentinelsource.com/news/loca ... mode=story
Related Stories
Related: Last statement sent to Sentinel from self-immolation victim
Related: Man found on fire dies
A man who died after lighting himself on fire outside the Cheshire County Superior Court House Wednesday had a history with local courts.
Thomas J. Ball, 58, of Holden, Mass., was embroiled in legal battles over how much he owed his ex-wife for their three children's medical bills, according to court documents.
A hearing had been scheduled for June 24 at Superior Court in the matter.
Ball also filed suit against the town of Jaffrey in March 2004, over what he said was the police department's mishandling of his arrest following an April 9, 2001, incident.
The Sentinel received a document Thursday mailed by Ball indicating his intention and outlining his discontent and anger with the government.