19 dead in torrential rains
The Philippine Star Updated August 08, 2012 04:57 PM
http://www.philstar.com/nation/article. ... eid=835977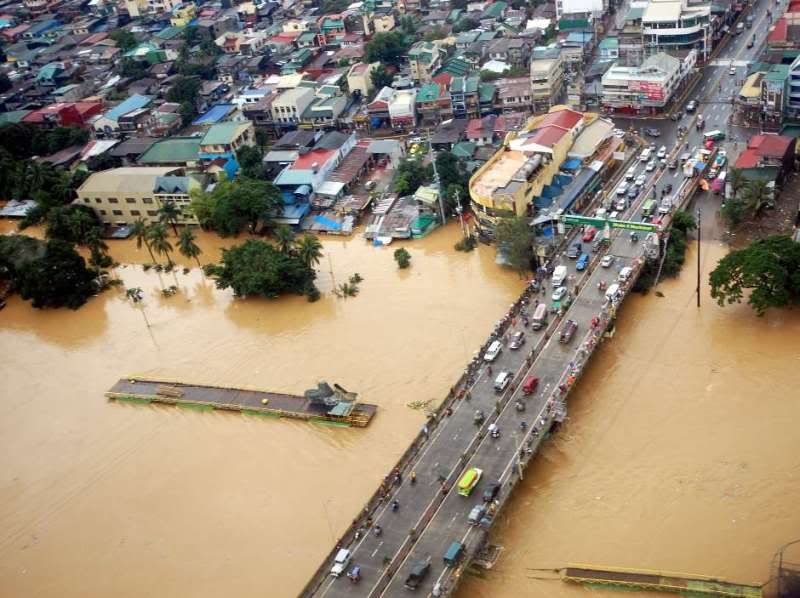 This handout photo taken on August 8, 2012 and released by the Department of National Defense (DND) shows an aerial shot of the overflowing Marikina river in suburban Manila.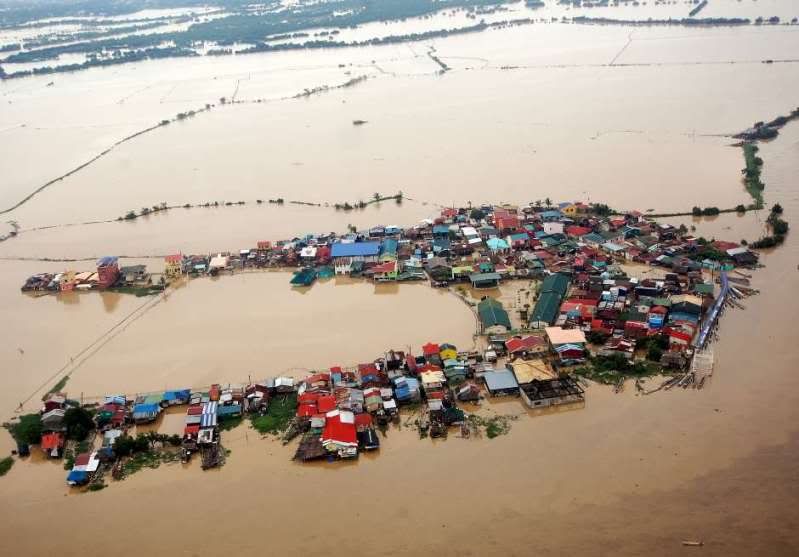 This handout photo taken on August 8, 2012 and released by the Department of National Defense (DND) shows an aerial shot of flooding around Bulacan, north of Manila.
Evacuees stay inside a Catholic church converted into a temporary evacuation center in Quezon City, north of Manila, Philippines, on Wednesday Aug. 8, 2012.
By Alexis Romero

MANILA, Philippines
- At least 19 have been confirmed killed and more than a million people have been affected by non-stop rains and floods spawned by the southwest monsoon, officials said Wednesday.
During a meeting of the National Disaster Risk Reduction and Management Council (NDRRMC), Director Lina Sarmiento of the police's community relations group said that nine of the fatalities were from Metro Manila, one from Ilocos, six from Central Luzon and three were from Calabarzon.
"The information was based on the reports submitted by our field units," Sarmiento, the community relations chief of the Philippine National Police, reported to President Benigno Aquino III.
The NDRRMC, however, said it has verified only 16 fatalities as of 3 p.m. Wednesday.
NDRRMC Executive Director Benito Ramos said nine of the fatalities died in a landslide in barangay Commonwealth in Quezon City last Tuesday.
The nine fatalities were identified as Jayson Baylon, 16, Jayvee Baylon, 20, Jissele Baylon, 7, Cecilia Baylon, 50, Jonathan Castulo, 3, three week-old infant Junica Castulo, and Jessica Baylon, Jethro Baylon and Joshua Castulo whose ages remain undetermined.
In Caloocan, a certain Gilbert Rabara, 36 drowned due to the floods that submerged parts of the city.
Two fatalities were also recorded in Central Luzon, including a certain Darel Flores, 9, who died of electrocution in Pampanga and Ariem Menes, 19, who drowned in Zambales.
A certain Marie Pansipane, 7, and her sister Ana Mae Pansipane, whose age remain undetermined, of barrio Ulanggo in Tanauan, Batangas also drowned as they were crossing a river.
Ramos said a certain Tracy Estrella, 11, and Stephanie Marquez, 3, died of drowning in Pampanga.
At least four persons were injured namely Jessie Baylon, 24, Kidskin Simbulan, 40, Leslyn Simbulan, 19, and Alex Simbulan, whose age has yet to be determined. All of them are residents of barangay Commonwealth in Quezon City and got injured due to the landslide.
However, the NDRRMC is still validating reports that 10 persons have been injured after a road located on the side of a mountain collapsed in Antipolo.
Ramos said that the bad weather has so far affected 1,220,021 persons or 265,630 families in Metro Manila, Ilocos, Central Luzon, Calabarzon, and Mimaropa regions.
Of this figure, 394,844 persons or 80,189 families were displaced.
Ramos said 31,403 families or 149,170 persons are inside 296 evacuation centers while the rest are in the houses of their respective relatives and friends.
Manila, San Juan, Pasay, Laguna, Bataan, Pampanga, Zambales, Navotas, Malabon, Muntinlupa, Marikina, and parts of Bulacan namely Guiguinto, Malolos, Meycauayan, Obando have been placed under state of calamity.
Such declaration allows local officials to tap their respective calamity funds to assist the affected residents.