Dear Friends,
About three weeks ago, I shared some good news about how the Muslim porn peddlers in the Lipa Marketplace (they cover their heads with hijabs and wear long sleeves in 30+ centigrade weather to appear outwardly modest) were run off and put out of business. Many Muslims of the conservative stripe refuse to associate with infidels because of our alleged immorality, however it is exclusively Muslims who are polluting the Lipa Marketplace with hardcore pornography. After preaching against them last year, it appeared the local property owners ran them off.
To read about Bill's preaching against the Muslim porn peddlers go here:
viewtopic.php?f=16&t=7135&p=17460&sid=300e64ac03a1c0534ba88ce7f0f693cb#p17460
Well it looks like the Muslim porn peddlers simply moved a few blocks and set up shop again. Here is a sampling of the filth they are selling today. For the sake of modesty, I blocked the anal and genital areas out. These pornographic magazines and graphic sexual acts are easily viewed by men, women and children walking down the street and the Muslim porn peddlers don't care....
A sampling of the filth being sold openly on the street. Women and children are victimized by porn. There is a strong correlation between easy access to porn and a rise in adultery and sexual assault. Men are victimized when they are ensnared by porn addiction too
Anyways, once I saw them again and realized they were selling their smut right out in the open, I figured they needed to hear the word of God and have their consciences indicted.
Be still before the LORD and wait patiently for him; do not fret when people succeed in their ways, when they carry out their wicked schemes.


Psalm 37:7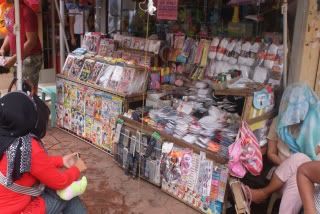 The woman on the right wasn't too proud of her smut selling, she completely covered her face with her hijab when I started preaching against the immorality of selling porn, how it displeases God and it hurts men, women and children. Look to right of picture to see the Muslim woman sitting on her chair with her hijab covering her face. I am asking her to remove her hijab, so I can photograph her and put her face on the internet, but she is staying silent and keeping her face covered
Here is a shot of all three porn peddlers at the booth (One man, two women). I am preaching loudly against them on the street. The man has now covered the pornographic smut with other magazines. All of them are trying to keep their faces out of my camera lens.
"Everyone who does evil hates the light, and will not come into the light for fear that their deeds will be exposed."


John 3:20
I would urge those of you reading this to consider getting a Whatcott quality, "Obama is no Messiah" t-shirt. You can't get apparel like this at Walmart and you are helping a missionary get to Ottawa with every shirt purchase. Suggested donation is $25.00. Click here for more info and to see these fine t-shirts

viewtopic.php?f=16&t=8151