Amid lewd photo scandal, U.S. Rep. Weiner resigns
By Mark Egan | Reuters – Fri, Jun 17, 2011
http://ph.news.yahoo.com/amid-lewd-phot ... 23478.html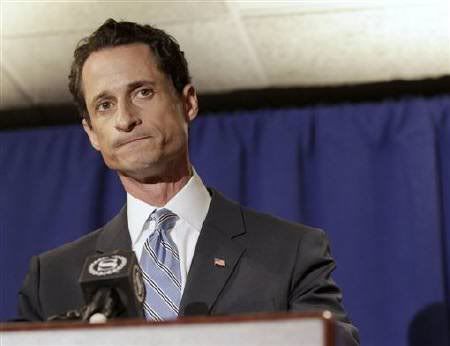 U.S. Congressman Anthony Weiner (D-NY) reacts as he speaks to the press in New York, June 6, 2011. Weiner resigned on Thursday over a weeks-long Internet sex scandal, succumbing to bipartisan calls for him to step down. REUTERS/Brendan McDermid/Files less
NEW YORK (Reuters)
- U.S. Representative Anthony Weiner, snared in a humiliating flap for sending lewd photos of himself to women online, resigned on Thursday, ending a weeks-long scandal that made his fellow Democrats cringe.
"I had hoped to be able to continue the work that the citizens of my district had elected me to do -- to fight for the middle class and those struggling to make it," Weiner told reporters in Brooklyn at the seniors' center where he first announced plans to run for New York City Council 20 years ago.
"Unfortunately, the distraction that I have created has made that impossible, so today I am announcing my resignation from Congress," he said looking composed in contrast to 10 days ago when he tearfully admitted to having online dalliances.
Once seen as a rising star among Democrats and widely expected to run for New York City mayor, Weiner made his announcement alone, his wife absent, at a raucous event.
Just how big a distraction he had become was evident at his press conference where he was heckled repeatedly.
Weiner said of his future, "I got into politics to help give voice to the many who simply did not have one. Now I will be looking for other ways to contribute my talents."
The New York Democrat is the third member of the U.S. Congress this year to step down over a sex scandal.
Weiner's resignation marks a remarkable fall from grace for a politician who in 1992 became New York's youngest-ever City Council member at 27 and who has been a leading liberal voice in the U.S. House of Representatives.
Weiner was known for his forceful debating and acerbic wit. He had friends in high places too. Weiner, 46, was married to Huma Abedin, 35, an aide to U.S. Secretary of State Hillary Clinton, in a ceremony officiated by former President Bill Clinton.
His mentor was New York's powerful U.S. Senator Chuck Schumer, who he worked for after graduating from college.
Ironically, for someone who had successfully used social media such as Twitter and Facebook to boost his political brand, Weiner's fall was prompted when he accidentally posted publicly via Twitter a close-up of his bulging underpants.
Weiner denied for more than a week that he sent a photo of himself in boxer briefs to a woman in Seattle on May 28, claiming his Twitter account was hacked. But on June 6, he tearfully admitted he had lied and had inappropriate exchanges with six women, some after he was married.
Since then more and more lewd pictures of the lawmaker have surfaced, making him daily fodder for tabloids and late-night comedians. Weiner's name, which also doubles as American schoolboy slang for the word penis, only made matters worse.
In a bizarre twist on Wednesday, a porn star said he told her to lie about their exchanges. The woman, who also strips, joined the chorus of those calling for him to resign.
Under pressure from President Barack Obama and both major political parties, Weiner had previously insisted he would seek treatment and take a "short leave" of absence from the House.
"A LOST OPPORTUNITY"
Weiner decided to resign after speaking with his wife, who returned from an overseas work trip with Hillary Clinton on Tuesday, The New York Times reported. At his news conference he apologized to his wife and thanked her for standing by him.
New York State Democratic Chairman Jay Jacobs said, "Anthony Weiner did the right thing by resigning from an office that I know he loved."
Democrats feared that Weiner had become a political liability to their efforts to win back the House from Republicans in next year's elections. Weiner also had been seen as a strong contender for New York mayor in 2013.
New York Mayor Michael Bloomberg called Weiner's fall "a lost opportunity" which was "tragic."
Obama ramped up pressure on Weiner to resign on June 14, telling NBC News: "He's embarrassed his wife and his family .... If it was me, I would resign."
Democrats are expected to retain Weiner's House seat, which would be filled in a special election.
Weiner's abrupt political fall followed resignations from Congress earlier this year from two Republicans, Chris Lee of New York and John Ensign of Nevada, both of whom are married.
Lee resigned from the House on Feb. 9 after it was revealed he sent a shirtless and flirtatious photo of himself to a woman he had met on Craigslist. Ensign of Nevada resigned over his extramarital affair with a former campaign aide.
Polls show that less than one in four Americans approve of Congress, which is often seen in partisan gridlock.
"To most Americans, sadly, this (latest scandal) is par for the course when it comes to how members act," said Nathan Gonzales of the nonpartisan Rothenberg Political Report.
Last November, Weiner easily won a seventh congressional term with 61 percent of the vote, bolstering his mayoral aspirations. The scandal all but ended those hopes.
"Mayor? I don't think he should be dogcatcher," said Joe Mele, a blunt-talking New Yorker.
Weiner's wife was in the early stages of pregnancy with the couple's first child, The New York Times reported on June 8.
(Writing by Mark Egan; Reporting by Michelle Nichols, Richard Cowan, Thomas Ferraro, Daniel Trotta and Paula Rogo; Editing by Jackie Frank)