Dear Friends
Today was a tough day. First of all my computer crashed at the worst possible time, right before the convention when I need it for so many things.....
Anyways, I headed straight to my usual spot Southeastern Computer Solutions (see picture above) for service; I have patronized them exclusively for 2 years now for my personal needs and I did much there for Weyburn Pro-life as well. Unknown to me, the owner Aaron Rubin was very unhappy with Weyburn Pro-Life's decision to bring Peter LaBarbera into Weyburn to speak and he took great issue with the fact that I believe homosexuality is a sin.
When I brought my computer to the counter for the technician to look at it, Mr. Rubin came out, looked at me with an unfriendly look and loudly announced "I am pro-gay." I asked him "what does that have to do with my computer problem?" Well for him plenty I guess, he told me he did not want to do business with either me or Weyburn Pro-Life anymore. As I started to leave, it appeared Aaron wanted to argue about my perceived bigotry. I got quite mad and told him I cared for many homosexuals dying of diseases related to their sexual behaviour and never denied them service, as he was doing to me. We then argued about acceptable denial of services. Aaron (and me for that matter) believed he had a legal right to deny me service for my computer problem. On the other hand Aaron really believes Christians should be forced under the pain of law to violate their consciences and allow homosexuals into their private bed and breakfasts to spend the night sodomizing each other.
Aaron's reasoning was I had no business worrying about what homosexuals do with each other in my private bed and breakfast, but I guess he believes he has the right to worry about my moral and political opinions if one of his technicians is going to work on my computer. As I left, the guy then accused me of being too cowardly to debate him and proclaimed he did more for Canada fighting for freedom in Afghanistan than I ever did in my life standing for my causes. Oh well.......
If you would like to minister to Aaron Rubin and encourage him to be more tolerant of Christians who hold to God's Word when it comes to how they deal with homosexuality, you can contact him here:
Southeastern Computer Solutions
PHONE:
(306) 842-7603
FAX:
(306) 842-5899
EMAIL:
sales@computersolutions.ca
While I felt bad being denied service at a place I was use to going to, of course I wasn't going to change my stand on that which I know to be true. Even if one is hated and rejected for standing on God's word on an important issue, such as homosexuality, that doesn't mean one backs off from standing for God, especially not to win the approval of man.
"

Then he called the crowd to him along with his disciples and said: "Whoever wants to be my disciple must deny themselves and take up their cross and follow me. For whoever wants to save their life will lose it, but whoever loses their life for me and for the gospel will save it.

"
Mark 8:34, 35
Not too long ago one could call homosexuality a sin and speak on the issue in a public forum in Saskatchewan, with little fear of retribution. Today that is no longer the case. The media hysterically attacks public figures who dare to say anything negative about the homosexual lifestyle. The courts and human rights commissions use the power of the state to punish Christians and use coercion to force them to violate their consciences, if they refuse services that facilitate the sin or speak too forcefully in public on the issue. And yes, now it is possible to even face ridicule and rejection by those who you might think are your friends and acquaintances, as not only tolerance, but the demand for complete acceptance of homosexuality, is becoming a mainstream value.
Still God's Word and empirical truth that homosexuality is wrong remains unchanged:
"

Because of this, God gave them over to shameful lusts. Even their women exchanged natural sexual relations for unnatural ones. In the same way the men also abandoned natural relations with women and were inflamed with lust for one another. Men committed shameful acts with other men, and received in themselves the due penalty for their error.

"
Romans 1:26-28
Homosexuality does harm children and those of us who are pro-life have a moral obligation to stand with the children, even if it means incurring personal cost to ourselves:
Renn Forsberg is a little boy, but his mother (who is a homosexual activist with public affiliations with numerous homosexual groups) is leading a public campaign to have the boy she adopted legally declared a girl. The picture above was on her Facebook homepage last week. Sadly, but not surprisingly, no one with power or influence is critically examining the claims made by the homosexual activist mother that Renn always wanted to dress and act like a girl. To my amazement I have even met Christians who are buying into the lie that boys and girls could be the opposite gender from the one God gave them at conception......
"False prophets will appear and perform great signs and wonders to deceive, if possible, even the elect."

Matthew 24:24
Mark Regenerus study (the most comprehensive and rigorous study ever conducted) on sodomite parenting:
http://www.frc.org/issuebrief/new-study ... s-research
Anyways, in addition to being discriminated against by our now former computer shop, the Leader Post also called me and rejected Weyburn Pro-Life's full page ad. You might ask what could be so bad about our ad, that a newspaper would turn down $5,500, rather than run it?
Well nothing really, other than we are advertising speakers the newspaper disagrees with. The Leader Post is a tireless champion of homosexual causes after all. Here is our rejected ad:
Leader Post ad:
https://docs.google.com/document/d/1QFG ... sp=sharing
After that news, a good friend of mine posted on my site and alerted me to another Michael Coren segment where he is bashing our speaker Peter LaBarbera and my self. Michael Coren seems to also believe he is capable of reading our hearts and minds as to why we have chosen to take our public stands on abortion and homosexuality:
Michael Coren bashing Bill Whatcott and Peter LaBarbera
http://www.sunnewsnetwork.ca/video/feat ... 6820579001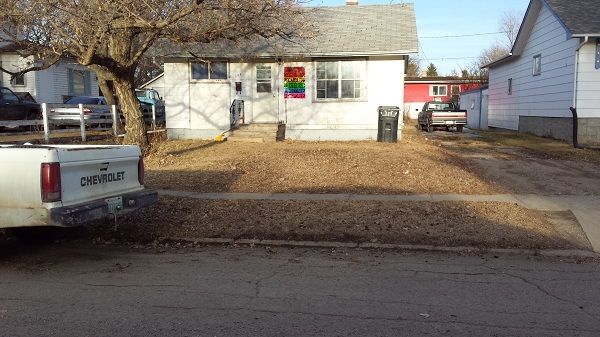 The side of the house reads "Love thy neighbour, regardless of their creed, nationality and sexuality."
On the way home I saw this above house. There is no denying the "Weyburn Against Intolerance" group is full of energy and they are quite bold in their efforts to marginalize us. I also noted on our local radio stations the coverage shifted from even handed where both of us got an equal opportunity to express our positions, to now the coverage is heavily slanted to favour the "Weyburn Against Intolerance" side and indeed their spokespeople are the only ones being interviewed now on our local radio.
Anyways, rather than get overly discouraged we should prayerfully carry on. We might as well admit we are weak and not able to fully counter the constant attacks on us by a hostile media and homosexual lobby. It is tough to counter the constantly repeated lies that homosexuals are "born that way" and notwithstanding that Christians are the ones who suffer violence, bullying and discrimination for not accepting the sin of homosexuality, it is nearly impossible to expose the homosexual agenda's utter lack of tolerance towards dissent and the fact that homosexual activists are anything but "live and let live." We pro-lifers are weak and the truth is most in the body of Christ are not standing. Therefore in our weakness we must go to the One who is strong:
Mary Stachowicz murdered by a homosexual for calling on him to repent of his sin
"
He said to me, "My grace is sufficient for you, for My strength is made perfect in weakness." Therefore most gladly I will rather boast in my infirmities, that the power of Christ may rest upon me.

"
2 Corinthians 12:9
No, I can't win the media battle and indeed it is conceivable the new Weyburn homosexual lobby group will prevail over the hearts and minds of most people in this culture war.
Still we can stand and speak the truth, secure in the knowledge that our Lord will give us the final victory:
"

I also say to you that you are Peter, and on this rock I will build My church, and the gates of Hades shall not prevail against it.

"
Matthew 16:18
To this end, I am developing my own little media.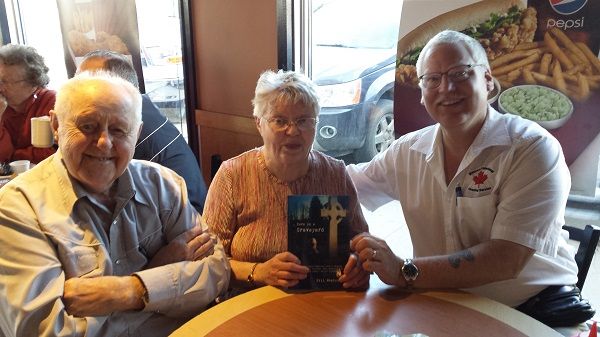 Here is my new book and my very first customer, holding an autographed copy of "

Born in a Graveyard

."
If anyone in Regina is interested, I would like to distribute 10,000 flyers advertising my new book and a photocopy of the ad the Leaderpost refused to run, with an explanation of the censorship. I have no doubt my book is an excellent tool to help folks understand how Canadians are frogs in the water and our freedom of concience, speech and religion are rapidly being boiled away.
If there are folks willing to help this project financially or with foot power, I can be reached at:
Bill Whatcott
Po Box 53
Stoughton, SK
Canada
S0G 4T0

Phone: (306) 861-6140
Please note Peter and I are still looking for activists to join us at:
University of Regina, April 14, 1:00 - 4:00 PM
University of Saskatoon, April 15, 1:00 - 4:00 PM
Graphic abortion signs and Biblical and medically accurate information on homosexuality will be available! Also my book will be on display for the students too!
"

Do not love the world or anything in the world. If anyone loves the world, love for the Father is not in them. For everything in the world—the lust of the flesh, the lust of the eyes, and the pride of life—comes not from the Father but from the world. The world and its desires pass away, but whoever does the will of God lives forever.

"
1 John 2:15-17